The AFT has always been a solutions-driven union, and our new campaign, launched during the opening session of TEACH on July 21, proves this in spades with a fresh, practical and detailed approach to strengthening public education.
The campaign, "Real Solutions for Kids and Communities," comes just in time: As AFT President Randi Weingarten pointed out during her keynote speech, it helps address ongoing mental health and achievement crises and stands up against "ruthless and brutal" attacks against public schools. The $5 million, yearlong program is the union's priority, and should be the nation's priority as well, she said.
After a warm welcome from Washington Teachers' Union President Jacqueline Pogue Lyons and a rallying speech from U.S. Education Secretary Miguel Cardona, Weingarten got straight to the AFT's mission. She called out extremist politicians banning books, censoring history and defunding public schools, then pivoted to the transformative strategies the AFT is prioritizing.
"What I have witnessed, what educators like you have shown me, what research has proven—all form a set of strategies and solutions that have and will help young people and strengthen public education," she said. As she described AFT members' work and described the need for more resources to help them continue to serve their students, the conference hall repeatedly exploded with applause and cheers.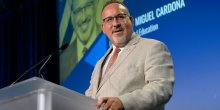 "Real Solutions for Kids and Communities," which will include parent partnerships and a back-to-school tour to share its work, zeroes in on:
Unlocking the power and possibility that come from being a confident reader.
Ensuring that all children have opportunities to engage in experiential learning, including career and technical education.
Caring for young people's mental health and well-being.
Catalyzing a vast expansion of community schools.
Fighting for the teaching and support staff and resources students need to thrive.
Reading and experiential learning
The AFT's new partnership with Reading Universe, which Weingarten announced during her speech, will be a big boost for literacy. The powerful, evidence-based tool leads educators step by step through an effective approach that really reaches students. Free and online, the program is led by WETA, along with First Book and the Barksdale Reading Institute, whose pioneering work in Mississippi has vastly improved achievement there. Weingarten also talked about the AFT's Reading Opens the World program, which gave away 1.5 million books last year and expects to distribute 1 million more.
Another powerful tool to bolster public education is experiential learning, "a 21st-century gamechanger." Weingarten described member Raphael Bonhomme's third-graders creating tour companies to explore their city's historical sites, and Denise Pfeiffer's high school chemistry students puzzling their way out of escape rooms embedded with class content. This deep learning provides real-world life skills and boosts academic achievement, said Weingarten.
Career and technical education is experiential learning at its best, she added, describing culinary and carpentry programs, plumbing and pipefitting, and even a semiconductor manufacturer, all parts of successful CTE schools that AFT members help run. The AFT is committed to growing these programs.
Community schools and mental health
Community schools, Weingarten said, do more than provide services like healthcare, food assistance and counseling. They also become centers of activity and connection—with sports programs, child care and after-school activities—building partnerships among families, educators and other community members. These centers are especially crucial as families face challenges from hunger and housing insecurity to physical health problems and mental health crises.
Citing several successful community schools, Weingarten noted that AFT members have helped create more than 700 of them across the country, and she vowed to multiply these learning and living centers to make them the norm, not the exception.
Outside of community schools, students' mental health is still at risk: Weingarten described how overuse of social apps can increase depression and anxiety and decrease people's ability to interact face to face. Weingarten called on social media companies to take responsibility and help protect kids, launching the new report "Likes vs. Learning: The Real Cost of Social Media for Schools," with ParentsTogether, Fairplay for Kids, Design It for Us and the American Psychological Association. The report calls on social media giants to make specific, fundamental changes to prioritize kids' safety and well-being.
Fighting for resources
Finally, Weingarten pointed out what AFT members already know so well: We need resources to better serve our students. But she also pointed to real solutions, guided by three Rs: educator recruitment, retention and respect. Successes—like United Teachers Los Angeles' new contract, with higher pay and smaller classes, and the $10,000 raise for teachers supported by the AFT and enacted by New Mexico Gov. Michelle Lujan Grisham—set the stage for other AFT-supported policies and legislation still in the works.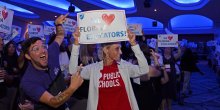 Literacy as liberation
Following Weingarten's rousing speech, a panel of literacy and equity experts dove deeper into the AFT's commitment to reading instruction. The most important outcome is for every student to learn to read, and using a science-based approach to teaching them is the best way to reach that outcome, they agreed.
"If you can't read, there's a point at which you are at the mercy of others," said Tanji Reed Marshall, an author, educator and education equity consultant. The foundation of our reading crisis today was built at a time when it was a criminal activity for some groups of people to learn how to read—as when it was illegal for enslaved people to read. "If a young person is in your charge and they're not able to read, when there are evidence-based practices out there [to teach them], that is socially unjust," she said. "The degree to which a young person has the skills and the know-how to make sense of comprehensive and complex text is the degree to which their future is in their own hands."
Alonso Jaque-Pino, an ELL (English language learner) teacher and member of Education Minnesota, said Reading Universe provides exactly the tool that busy teachers need—it is immediately available and cuts right to the essence of excellent reading instruction. Sounding out words opens the door just enough for students to begin learning: "Give knobs to all the students so they can open the doors for themselves," he said.
Kareem Weaver, co-founder and executive director of FULCRUM, said teaching children to read is "a call to empowerment and agency," and praised teachers for having the courage not only to love children when they are struggling, but also to systematically lead them through learning that will serve them for life.
[Virginia Myers]