Throughout this century, the AFT has been a major force for preserving and strengthening America's democratic commitment to public education and public service. Desegregating public schools, passing the landmark Elementary and Secondary Education Act, establishing collective bargaining for teachers and other public employees, and addressing the needs of disadvantaged children are just a few of the causes the AFT has championed. Currently the AFT Teachers division's major initiatives include:
Professional Development Opportunities
The AFT began its professional development work in the early 1980s with the creation of the Educational Research and Dissemination (ER&D) program.  The driving principle behind ER&D was to create a union-sponsored program that could translate educational research into practical strategies that teachers could use every day in their classrooms.  Today there are more than 130 locals with ER&D programs serving thousands of our members.
In addition to the ER&D and online programs, our division has initiated other projects to:
offer online professional development;
provide teachers who have English language learners in their classroom with effective materials and strategies to reach this student population; 
improve teachers' knowledge on using data to inform instruction; 
help union leaders and negotiators deal with the current and potential impact of NCLB on collective bargaining contracts; and 
create "lesson study" learning communities to improve instruction.
Redesigning Schools To Raise Achievement (RSRA)
The AFT's RSRA project helps states, districts, schools and classroom educators improve student achievement by providing training for school teams; information on programs that work; technical support; district and school policy models; and opportunities to build partnerships. Since its inception in 1989 with six locals, our efforts have expanded both in breadth and depth:
The AFT has provided thousands of hours of technical assistance and training for affiliate leaders, most typically through over-the-phone or on-site consultations. 
More than 800 participants from 150 school districts/states have been trained in Effective Leadership for Academic Achievement through a partnership with the AFT and the United Federation of Teachers' Teacher Center in New York City.
More than 27 local labor-management teams have received in-depth labor-management training at Harvard University's Kennedy School of Government.  
More than 400 local participants have attended the last two annual meetings we have sponsored.
Teacher Quality 
The AFT provides technical assistance on teacher quality issues and monitors events and organizations that promote teacher quality. We work with affiliates and at our biennial convention to develop and implement policy that is reflected in the union's teacher quality resolutions. We also provide advice and assistance to affiliates on the Highly Qualified Teachers (HQT) requirements of NCLB.  Finally, the AFT Teachers division provides support to AFT officers who serve on various boards and committees relating to teacher quality issues.
Standards and Assessments
The AFT charted new territory in the 1990s with its "making standards matter" agenda. We continue to monitor states' efforts to implement standards-based reform—academic standards, standards-based curricula and assessments, intervention for struggling students, and accountability policies—and provide technical assistance around these issues. We monitor changes in state accountability plans to understand how the adequate yearly progress (AYP) formula under No Child Left Behind is being used across the country and provide technical assistance as needed.
English Language Learners 
In late 2003, an AFT staff task force was established to develop a political and educational agenda for the union on Latino issues.  That agenda includes: 
helping affiliates implement outreach programs to better address the needs of the Latino community;
identifying and/or developing resources for PreK-12 affiliates to help teachers and school staff meet the needs of English Language Learners (ELLs) and Latino students;
increasing support for AFT issues among U.S. Latinos; and
forging collaborations and partnerships with Latino community organizations.
Early Childhood
High-quality early childhood education has been on the AFT's agenda since the 1970s as a strategy for improving educational outcomes, particularly for disadvantaged children.  The issue gained momentum in 2002 when the Center for the Childcare Workforce (CCW) merged with the AFT Educational Foundation in an effort to expand the capacity to create a unified voice for the early care and education workforce. That same year, the AFT proposed the Kindergarten-Plus program, which provides an extended year, full-day kindergarten to disadvantaged children by enabling them to begin kindergarten the summer before they would ordinarily enter and to continue through the summer after kindergarten, right before entering first grade. In 2003, the New Mexico Kindergarten-Plus program began a three-year pilot program administered in four school districts. Currently, several states, including Connecticut, Louisiana, Rhode Island, Texas and Virginia, are also considering Kindergarten-Plus programs.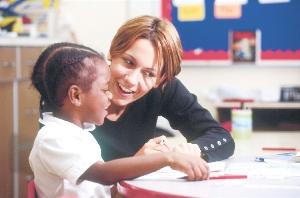 No Child Left Behind (NCLB)
Since the passage of NCLB, the AFT has worked to help our members understand and implement its requirements, while also stressing the changes and corrections needed to make the law workable and fair. Our efforts include:
more than 100 presentations to AFT affiliates and other education groups on NCLB;
a special section in American Teacher, called NCLB watch;
creation of an Internet site with information about the law and AFT's positions on various aspects of NCLB;
passage of the resolution Moving Every Child Forward, which reflects grass-roots concerns about the law, and details strategies for improving NCLB implementation; and
development of a course with AFT PSRP to help paraprofessionals meet the new NCLB requirements.